REGISTRATION FOR COURSES OPENED WITH THE ASSUMPED TIME:
In Castelnuovo Monday and Wednesday (via Pariolo 3)
Dance is life
Welcome! My name is Oxana and I am the president of the "LifeStyle" association. The goal of the association is the promotion and development of sports dance, and healthy lifestyle in Trentino. We participate in CONI projects, in social projects such as Alzaimer fest, Sport camping, Sport Games, base in Borgo Valsugana. We take part in the FIDS competitions (we have won the first places of both group and singles in the regional and national championships). We work with children and adults doing dance and fitness classes: Oriental dance (belly dancing), Dancing Kids, We love dance, Shaping, Pole dance.
We invite you to take part in our courses, the trial lesson is free!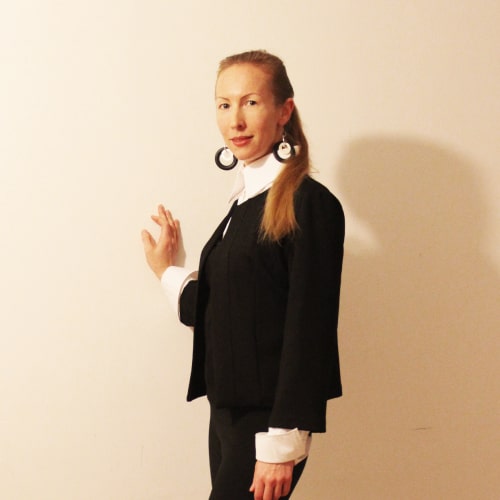 Oxana Muleronko
Presiden of Asd LifeStyle
Dance is
Belly dance
Belly Dance is an art form that helps strengthen the muscles of the thighs, abdomen, buttocks and arms better than any traditional aerobic or gym program. Belly dancing is a physical exercise suitable for all ages, and is a good exercise for the prevention of osteoporosis in older people.
Many of the moves involve parts of the body that work separately, thus improving trunk flexibility. Belly Dance also studied the effect on women with menstruation problems.                      Subjects reported a more positive approach to their menstrual cycle, sexuality and bodies. Elastic and graceful Oriental dance gives a fantastic impression of mystery and femininity.

Dancing kids®
DancingKids is the first innovative method to teach dance to children aged 7 to 13 years. A journey through all styles of dance in just two hours a week.
Move your young students to the rhythm of the songs of the moment ... Start a new journey with your passion for dance!
Dancing Kids® infuses socialization, leadership and self-esteem while maintaining an atmosphere of play and fun, consolidating the motor patterns and developing expressive motor skills and increasing coordination.
Fitness
Shaipping
The main goal of Shaping is to give a curated, feminine and harmonious image of women. If this is what you need, SHAPING is for you! The difference between Shaping and Aerobics is that in shaping there are no jumps and bumps that could damage the joints.
Shaping changes the relationship between fat and muscle, making women better aesthetically, more feminine and more attractive. Shaping exercises are aimed at improving the spine, using it and developing it in all possible directions of movement: flexion and extension movement, lateral flexion, rotation and torsion.
We love dance
We love dance is the answer to your needs.                     It is a method that guarantees extraordinary results through dance and fun. We all know that if we want to feel good and have a physical tonic we have to train, there are no excuses ... It is true, however, that many training systems are TREMENDLY WARM. Of course, everyone has his tastes. WE LOVE DANCE is instead the opposite of boredom, it is a patented path, all female, to reach an enviable silhouette, dancing and having fun.                     WE LOVE DANCE is for all ages, it is not necessary to know how to dance and the choreography is really simple, intuitive and suitable for everyone. We work exclusively for objectives and the main one is the result we will achieve by dancing over 30 different musical rhythms: SALSA - BACHATA - CHA CHA CHA - MERENGUE - SAMBA - JIVE - BOOGEE WOOGEE - REGGAETON - CHARLESTON - CUMBIA - BOOGALOO - SIRTAKI - TANGO - KIZOMBA - 60s - DISC DANCE '70 and '80 - FLAMENCO - DANCE of the VENTRE and more ... The effectiveness is proven, with only two sessions a week.
Pole dance
Pole dance combines dance and acrobatics centered on a vertical pole. This performance art form takes place not only in gentleman's clubs as erotic dance, but has also recently gained popularity as a mainstream form of fitness, practiced by many enthusiasts in gyms and in dedicated dance studios.[1] Amateur and professional pole dancing competitions are held in countries around the world.
The lessons improve posture and gait; the figure becomes leaner and you lose weight quickly. This discipline does not require much physical effort and is a fitness workout with maximum involvement of the muscles of the arms, chest, abdomen, legs and buttocks.
Diplomas
Media
Awards